CAREERS
In a world of ambition where communication skills are king and teamwork reigns supreme, working at ODEON Cinemas Group gives people skills for life. We've made ourselves the leaders in the European cinema sector by understanding that our people have ambitions as big as our own.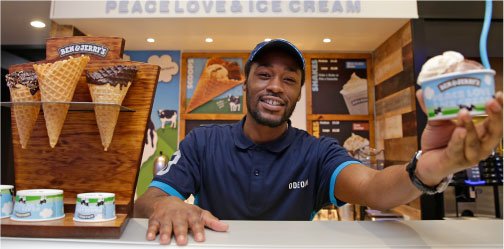 BE EXTRAORDINARY
We empower every colleague to hone their skills and discover their talents. Whether somebody joins us as a Cinema Host, a Cinema Manager or in one of our support office roles, our emphasis on training & development means they'll have a career that never stands still.
BE REWARDED
At ODEON Cinemas Group, our people work hard. But the perks are worth it. For their dedication these perks include flexible working hours and generous annual leave. For their passion, it means all-you-can-watch films and cinema passes for friends and family. And for their careers it means exciting career paths and learning opportunities. All we ask in return is that our colleagues roll up their sleeves, join in the fun and make it their mission to give every guest an inspiring entertainment experience.
BE PART OF THE TEAM
What's better than doing a job you love? Doing it with a team of brilliant, supportive friends. At ODEON Cinemas Group, we're one big extended family that's spread across the UK and throughout Europe. We're an AMC company, part of the largest movie exhibition company in the world.
BE ODEON CINEMAS GROUP
Want to be somebody who can transport guests into whole new worlds? Then take the first exciting step by visiting our individual brand's career websites below. Our people love working for us, as demonstrated by our Organisational Health Index result which puts us in the top 25% of companies worldwide!

We love giving back to our colleagues and recognise our high performers through fun incentives.